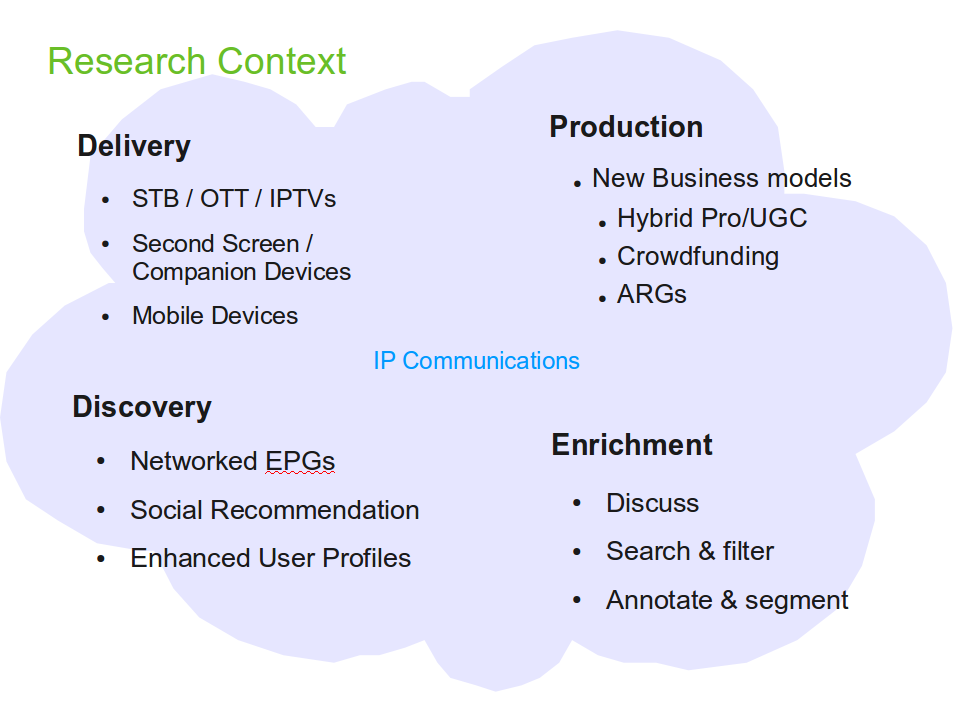 iTV has had a huge impact on all areas of television research, from production, and delivery to discovery and enrichment of television content and communications.
The delivery of TV media, as discussed in an earlier post, is no longer limited to one, static device in the home. Set top boxes (STBs) from Sky or BT, Over The Top (OTT) video / media services like youtube or vimeo, and the increasing use of smartphones, PSPs and other mobile devices has fragmented the experience of TV viewing into a multitude of discrete media delivery contexts.
For example, this video by the German design firm syzygy shows an consumer-centric overview of the technologies and interaction scenarios currently available in iTV. Simply put: the user controls the TV with a fancy remote (based on an iPad or tablet), which synchronises content, games and communications between 'friends', with product placement and advertising.
Another significant area of research in iTV is the use of network communications technology to enhance the usability of Electronic Programme Guides (EPGs), which, faced with ever increasing amounts of available content, present significant challenges to broadcasters and consumers to highlight and recommend appropriate content. More sophisticated, browser-like iTV interfaces and devices have opened up the possibility of using techniques for content navigation and selection derived from social networks and other web services.
For example, vidque.com uses a twitter-like user interaction model of users' personal 'streams' of content (in twitter, 140 characters of text), to share videos. By watching and posting videos, each person's viewing habits become a channel, which other users can watch and 'follow', providing a more personalised and network-centric alternative to the a-priori genre or time-based list format of most EPGs. Vidque incites users to 'curate' their streams of videos, expressing something about their tastes and interests, creating another mechanism for them to project their identity into the social network through their choice of media.
iTV's impact on TV production has only recently started to propose new business models for how media production is funded. For example, independent producers
such as Robert Greenwald, whose politically charged documentaries have found it hard to gain funding from traditional studios or broadcasters, have used the web to connect directly with media consumers who are happy to 'pre-buy' the film on DVD to fund its production. Many more of these 'crowd funded' projects are being produced in this way via services such as Kickstarter.com.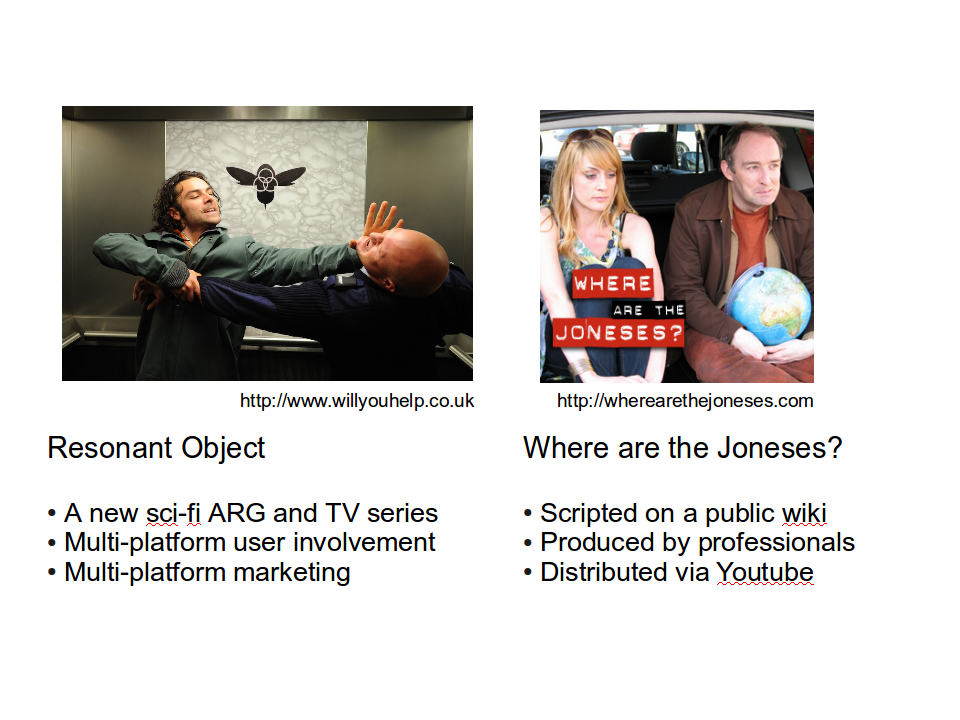 As well as funding, iTV has also enabled other, more participatory ways for viewers to participate in TV production. For example Resonant Object is a new science fiction TV series that involved viewers in an expanded narrative via an Augmented Reality Game (ARG), happening in various different channels. Their involvement may extend from sitting in front of a TV to participating in a mobile phone-based game or even attending live events and contributing audiovisual content to what becomes part of the TV show.
Where are the Joneses was a pioneering project by David Bausola at Imagination, which got a brand (Ford in this case) to fund a soap opera which was scripted collaboratively by viewers of the sohw, participating on a public wiki. Their scripts were then produced by a professoinal crew and distributed via Youtube.
The fact that a brand like Ford funded Where are the Joneses demonstrates that this is a viable and potentially very disruptive business model. Rather than Ford paying an advertising agency to do product placement in an established TV show or film, they simply directly commissioned the use of a existing web platforms (wikidot, wordpress and youtube) to enable the voluntary user-generated scripting of the show, and funded the professionals to produce it, demonstrating how the advertising and broadcasting industry could be disintermediated by this kind of TV production process.
More generally, the infrastructure of iTV lends itself more to a network paradigm of communication than traditional broadcast. Opportunities abound for the enrichment of an expanded TV experience, in which viewers, broadcasters and other interest groups can participate in a ongoing conversations about media. Opening up the mass of these conversations about TV (via social media and other networked communications channels) that have always been an important part of the viewer experience, drives the changes to how TV and media is being produced, discovered and delivered.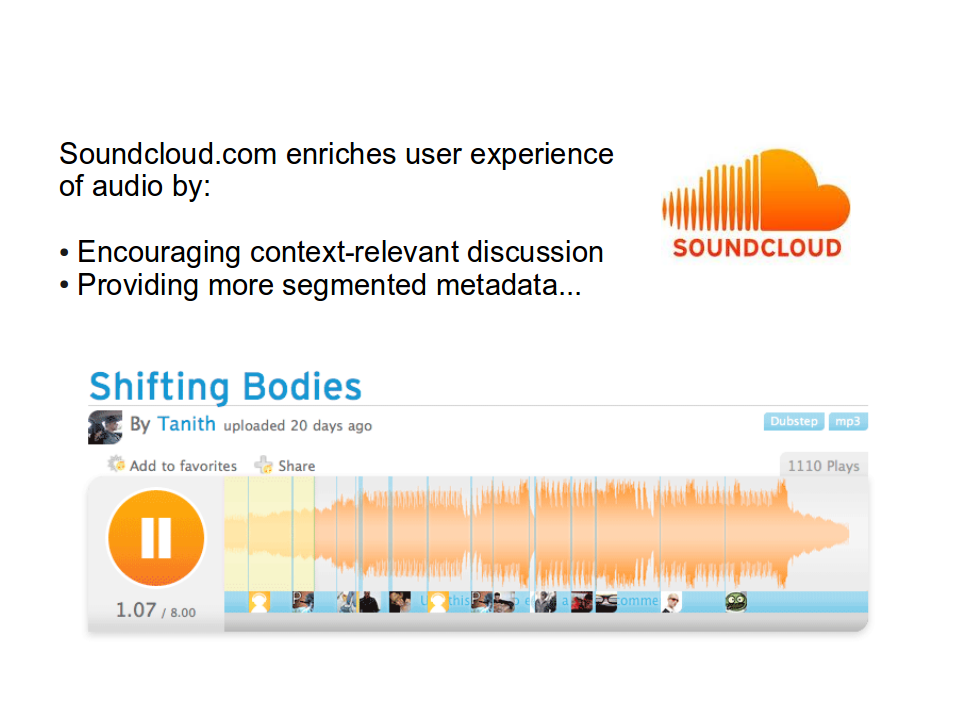 A recent example of how facilitating people's interactions with each other can enrich understanding of media is the Berlin-based start-up soundcloud. Started by music professionals who had been used to sending each other audio files by email, and were dissatisfied with the inability to discuss and enrich the media they were sending each other in any level of detail.
In the slide above you can see that comments on the audio track are embedded in the waveform of the audio. Their comments actually segment that track into sections that can be seen to relate to each comments, giving a much more granular set of annotations than is possible via email or on other media sharing platforms such as youtube, where comments are attached to entire media files.
A quick comparison of the quality and tone of comments on soundcloud and youtube could suggest that having to take the time to comment on a specific segment of an audio file encourages more context-relevant and incisive discussion (or discourages other kinds of comments and flames). This 'in-content commentary' mechanism also provides much more metadata about what the commenter is talking about, because it relates to a specific segment within the media file, which may have a very different meaning or reference than the rest of the track.
Soundcloud is a great example of how how people can be enabled to mobilise networked media in order to interact with each other, and how that interaction can be harnessed to enrich the experience and annotate the media being discussed.
So much of the effort in iTV research seems focused on trying to understand and profile TV viewers to then try to guess at and satisfy their established tastes. Soundcloud, instead, focuses on stimulating people's interactions, using media (text/comments), via another piece of media(an audio file), as a way of understanding that media, and enhancing that media in terms of how it can be indexed, discovered, shared and re-used for further interactions.
This approach, which seems comparatively under-researched, highlights another possibility: that of investigating people's conversations by looking at how they deploy, share and interject text, images, videos etc. in their interactions around other media (eg. TV).
That is the aim of this research project: to investigate mechanisms and heuristics for harnessing discussion between viewers of iTV, as a way of understanding the media they are experiencing and interacting around, and at the same time, looking at how they are deploying media to interact with one another as a way of understanding their conversations.
In short: understanding media through how it's used in conversation, and conversation through how it uses media.